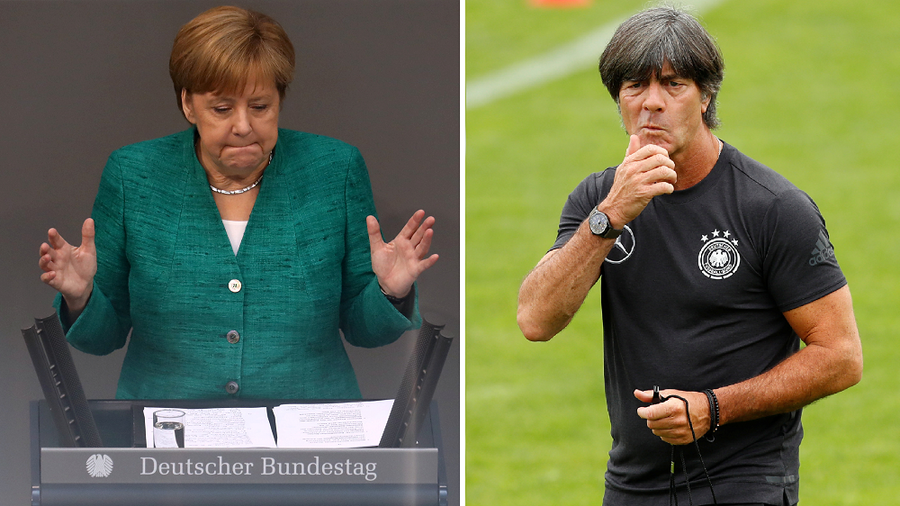 Side-by-side Joachim Loew and Angela Merkel have overseen an era of German political stability and sporting success. Inscrutable heads of institutions that have dominated Europe and beyond. And both could soon be out of a job.
An early World Cup exit for Die Mannschaft, and the spectre of political defeat for Merkel in Berlin, Bavaria and Brussels is shaking the normally very steady ground under the feet of Germans.
Merkel first became German Chancellor in 2005, and within a year Loew took over as head coach of Germany's football team, and they've both remained in charge ever since with very little sign that anything would move them. Stability across key institutions has become key to the international prestige of a nation that in the past has struggled to tame the chaos within.
2018 is proving to be a much harder proposition for the steady hands of Jogie and Angie though, as both wrestle with destabilising elements within their own teams and the wider world refuses to let Germany have its own way, whether in the political arena, or on the football pitch. The current woes facing both prove once again that few if any leaders leave completely on their own terms while surfing on a wave of success.
For Loew, the final judgement may be days away, after his Germany team not only failed to defend their World Cup crown, but failed even to get out of the first group stages at Russia 2018. It's the nation's worst performance in a World Cup since 1938.
Germany has reached at least the semi-final in the last 8 major events it has played in. To finish bottom of a very winnable looking group is little short of a national trauma that even Loew may struggle to survive.
There is talk of splits within the Germany squad, with newer members of the team keen to push on and achieve new glory and success, and the old guard struggling to maintain their hunger, or even ability to carry everyone with them. Veteran attacker Thomas Müller has looked a fading force for some time, but Loew still picks him, putting his faith in familiar faces.
For Merkel, the veterans she has relied on are also no longer enough to guarantee victory, and the new members of her political squad are just not playing her game. Interior Minister Horst Seehoffer is the head of the Christian Socialist Union (CSU), the coalition partner of Merkel's Christian Democratic Union (CDU). He is also head of Germany's wealthiest region and is threatening to close the borders of Bavaria to refugees, in a direct challenge to Merkel. Two members of the same team who on the key issues are playing very different games, and there's every chance the governing coalition will collapse because of it.
The Chancellor famously opened Germany's borders to as many refugees as could make it in 2015, and they flowed in faster than the goals Germany scored in their 7-1 win over Brazil at the last World Cup. Merkel's grand humanitarian gesture at that time meant Germany could claim moral leadership of the liberal world, while showing off the shiny World Cup in its trophy cabinet aswell. Loew and Merkel were beaming.
They're not know. Merkel is not only facing the challenge at home but she is heading to Brussels to try and cut a deal on migration where, as with Seehoffer, she will face a number of normally acquiescent EU members who are no longer interested in being part of the European team when it comes to refugees. Italy and Bulgaria to name just two are looking about as compliant as the Mexican and South Korean football teams did as they beat Germany at the World Cup. Politics and football in Germany are on unfamiliar ground.
The Chancellor wants the whole of the EU to share around the refugees she more than anyone encouraged to come, saying Union members should "be guided by values and root for multilateralism rather than unilateralism". The wider EU has been left to question whether Merkel was making really making multilateral decisions when she opened Germany's borders. She wants a deal in Brussels by Friday, it's unlikely she'll get one. There are growing accusations that Merkel's policies on immigration and refugees threaten to rip apart the German government and the European Union, and there are calls for her to consider her position.
In another strange parallel, Loew is considering his position after his football team was also forced to deal with the legacy of immigration. There was serious debate about national identity after two of Germany's key players, Mesut Özil and Ilkay Gündogan were pictured meeting Turkish President Recep Erdogan. A number of times German fans booed the two players who are of Turkish origin, another sign of an uncertain political climate.
So watch this space as the worlds of football and politics play out in a strange parallell in Europe's most powerful nation. Angela Merkel and Joachim Loew have been the figureheads of success for Germany for almost exactly the same amount of time. They could soon be scapegoats for failure, taken down by very familiar issues. It may be the end of an era.