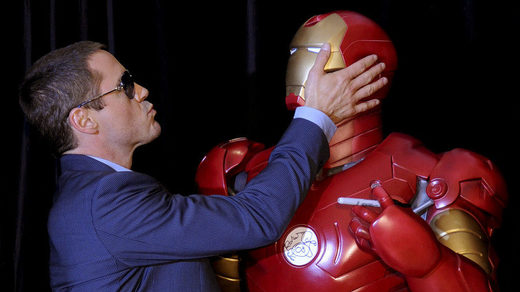 The original Iron Man suit from the first Marvel franchise movie has gone missing from a warehouse in Hollywood. The iconic red and gold costume is valued at a jaw-dropping $325,000.
Investigators might count themselves unlucky that they can't call on Tony Stark, the billionaire tech playboy who built the tank-busting super-suit in the film series. All they have to go on is that it could have gone missing sometime between February and late April, according to the LA Times.
According to Christopher No, spokesman for the Los Angeles Police Department (LAPD), an employee at the warehouse "just happened to check" on the costume Tuesday. The employee then raised the alarm when they saw it was missing. The incident is being investigated by the Foothill Division of the LAPD.
Longtime Iron Man adversaries Mandarin, Whiplash and Loki would normally top the list of possible suspects in the comic book realm, but it's unclear if the police are pursuing a supervillain line of enquiry. And as good as Stark's super pals, The Avengers, are at smashing up cities, they are decidedly less good at the more mundane work of sleuthing – so don't expect to see Hulk, Thor or Spiderman on the beat with LAPD cops anytime soon.
The missing suit is not the first high-profile incident of a comic book memorabilia going missing. In 2001, original copies of Action Comics No. 1 and Detective Comics No. 27, which featured the first appearances of both Superman and Batman, were stolen from the home of actor Nicholas Cage. The Superman comic, the only one of the two to be recovered, was worth $1.5 million at the time.