On Sunday, media reported that 76 rally participants were admitted to hospitals, including Lulzim Basha, the leader of the Democratic Party of Albania, but most were allowed to go home after receiving help from medics, while nine people remained under the medics' care.
The total number of those poisoned has risen to 140, with many admitted to the Mother Teresa University Medical Center of Tirana, the TV21 broadcaster reported.
The victims said that some "white powder" had been diffused during Basha's speech.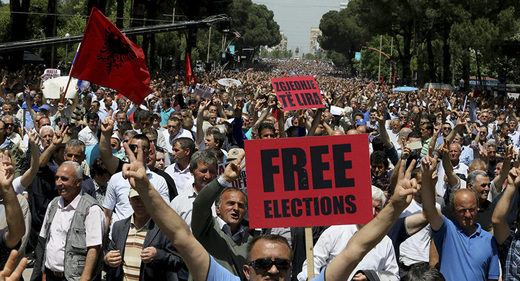 The medics confirmed that the poisoning represented no threat to the lives of those who had been received by the hospitals.
On May 18, following a three-month standoff, Albania's Prime Minister Edi Rama and Lulzim Basha unveiled a package of measures that stipulates the participation of all the country's political parties in the next general elections, which were postponed from June 18 to June 25. The measures were conditioned by a deal regarding representation of opposition ministers in the cabinet and key institutions.
The county's opposition has been boycotting the parliament for three months in a bid to stall judiciary reforms necessary to start the EU accession talks. Albania gained the status of a candidate for receiving the EU membership in 2014.