Shortly after the cancel mob came for Dr. Seuss, several recently banned books began selling for hundreds of dollars on Ebay. For example:




Will woke Ebay allow the auctions to complete?
Meanwhile, one Amazon seller is offering "If I Ran the Zoo" for nearly $1,000: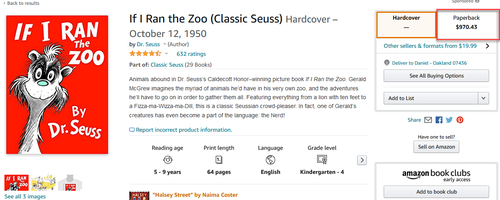 Six short years ago, former First Lady Michelle Obama read a Dr. Seuss book to a group of school children.
Now, Dr. Seuss is racist, and has become the latest victim of woke-mob cancel culture.
Six Seuss books – including "And to Think That I Saw It on Mulberry Street" and "If I Ran the Zoo" will no longer be published due to 'racist and insensitive imagery,' according to the organization which preserves and protects the author's legacy.
"These books portray people in ways that are hurtful and wrong," Dr. Seuss Enterprises told The Associated Pres in a Tuesday statement coinciding with the late author's birthday (real name Theodor Seuss Geisel). "Ceasing sales of these books is only part of our commitment and our broader plan to ensure Dr. Seuss Enterprises' catalog represents and supports all communities and families," the statement continued.
The other books affected are "McElligot's Pool," "On Beyond Zebra!," "Scrambled Eggs Super!," and "The Cat's Quizzer."
What's more, President Biden removed all mentions of Seuss from Read Across America Day – held on Dr. Seuss' March 2 birthday.
The backlash against Seuss started in earnest after former First Lady Melania Trump gifted Dr. Seuss books to a Cambridge, Mass. elementary school.