Sriwijaya Air CEO told reporters 62 people were onboard Sriwijaya Air Flight 182.
The airline's CEO Jefferson Irwin Jauwena said the plane was delayed 30 minutes before it could take off due to thunderstorms.
He noted the plane was in good condition.
* * *
Update (0928 ET): Reuters reports the Indonesian Navy has determined the "coordinates" of missing Sriwijaya Air Flight 182.
INDONESIAN NAVY: LOCATION COORDINATE OF MISSING SRIWIJAYA PLANE HAS BEEN
INDONESIA TRANSPORT SAFETY COMMITTEE: ALL PASSENGERS IN MISSING PLANE ARE INDONESIANS
* * *
Update (0821 ET): Boeing spokeswoman Zoe Leong said the company is closely monitoring the incident.
"We are aware of media reports from Jakarta, and are closely monitoring the situation. We are working to gather more information," Leong said. 
The Boeing 737-500 aircraft first flew in May 1994, according to Flightradar.
* * *
Update (0651 ET): Indonesian news outlet Detikcom said Sriwijaya Air Flight 182 "crashed around the island of Laki , Kepulauan Seribu."
* * *
Update (0633 ET): Local Indonesian new channel BeritaSatu reports that Sriwijaya Air Flight 182 was carrying 59 passengers.
The local news outlet also posted a picture of first responders holding a "suspected" part of the aircraft.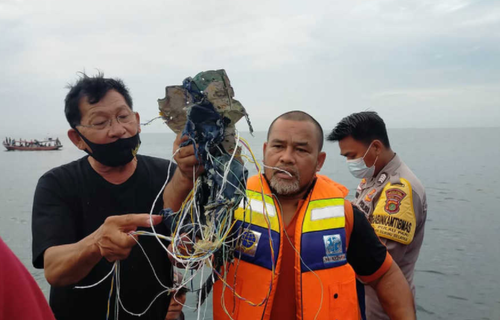 Another first responder holding a "suspected" part of the aircraft.