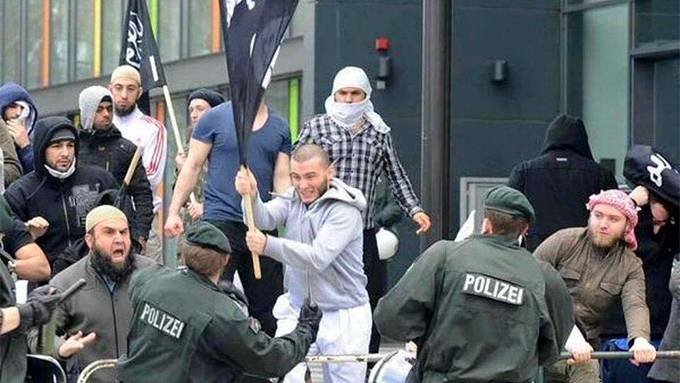 "No-go areas" do exist in Germany, Angela Merkel admitted in an interview, adding that the arrival of "so many refugees" in the country "has raised multiple questions."
Speaking with RTL, Merkel acknowledged that there are areas in Germany where people cannot feel safe. She also made it clear that it's time for the authorities to do something in order to ensure public safety.
"It's always a point to me that [ensuring] domestic security is the state's obligation, the state has the monopoly of power, the state has to make sure that people have the right to it whenever they meet and move in a public space," Merkel argued.
She then took aim at "no-go areas," which gained notoriety all across Europe during the refugee influx that reached its peak in 2015. Merkel bluntly dismissed the claim that 'no-go areas' are non-existent in Germany, stressing instead that "there are such spaces, and you have to call that by name and you have to do something about it."
Merkel, who is steps away from her official fourth term as the Germany chancellor, said her government had a "tough time" in the past. She then referred to harsh criticism over her "open-door policy" and her reluctance to set an upper limit for the new refugee arrivals: "Of course, the arrival of so many refugees has raised multiple questions."
However, some critics said that Merkel did not allow much self-criticism during her speech. Merkel is not known to have said that she wouldn't have acted another way when the migrant crisis broke out.
While the chancellor refrained from touching upon the subject of rising violent crime among refugees, her interview came several weeks after a government-sponsored study showed a drastic increase in violent crime committed by male migrants aged 14 to 30. The massive influx of asylum seekers led to a spike in violent criminal acts, the study, which was conducted by a group of criminologists and forensic experts, stated. The review was conducted at the request of the German Ministry of Family Affairs, Senior Citizens, Women and Youth.
Refugee policy became the subject of extensive negotiations between Merkel's conservatives and the Social Democrats when the two discussed reaching a coalition agreement earlier this year. The agreement, among other points, emphasized the need to crack down on human traffickers and "massive strengthening" of the EU border agency Frontex.