The former head of UBK, Sasho Mijalkov, surrendered to the Prosecutor's Office. Before entering the prosecutor's office, he gave a statement to TV24 in front of the prosecutor's office.
With a straight face, he said that yesterday he was isolated, felt sick with a temperature above 40 degrees, with symptoms of Covid-19 and he did not intend to run away, had no idea the entire country is looking for him, but once he found out, he came to the Public Prosecutor's Office.
Mijalkov mocked the entire country by apologizing to the public and said that he was there to take the documents for his house arrest.
MINA finds from sources in the SDSM, Mijalkov held a 2 hour meeting with Zaev last night where they were bargaining for the sentence (8-10 years) Mijalkov would receive in which he would get to keep all the ill-gotten properties and over 500m euros.
Below is the synchronization between Vice Zaev's TV station welcoming Mijalkov in front of the Public Prosecutor Office and Zoran Zaev.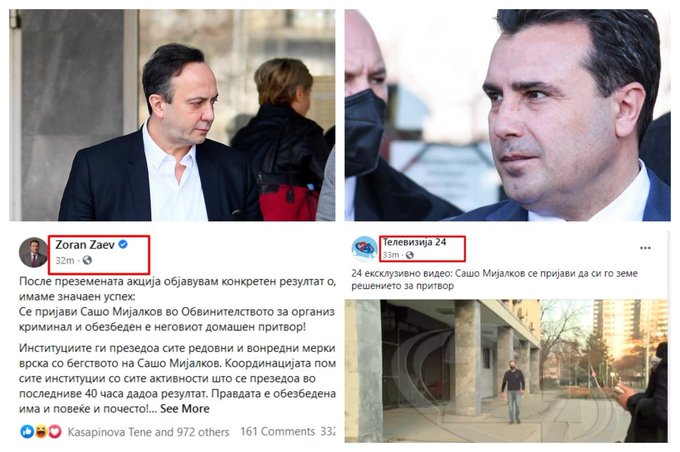 The Mijalkov smokescreen is the perfect distraction for Zaev and the fact he no longer has Parliament majority after 2 LDP MPs left the SDSM Coalition, bringing their coalition numbers to 59 MPs.