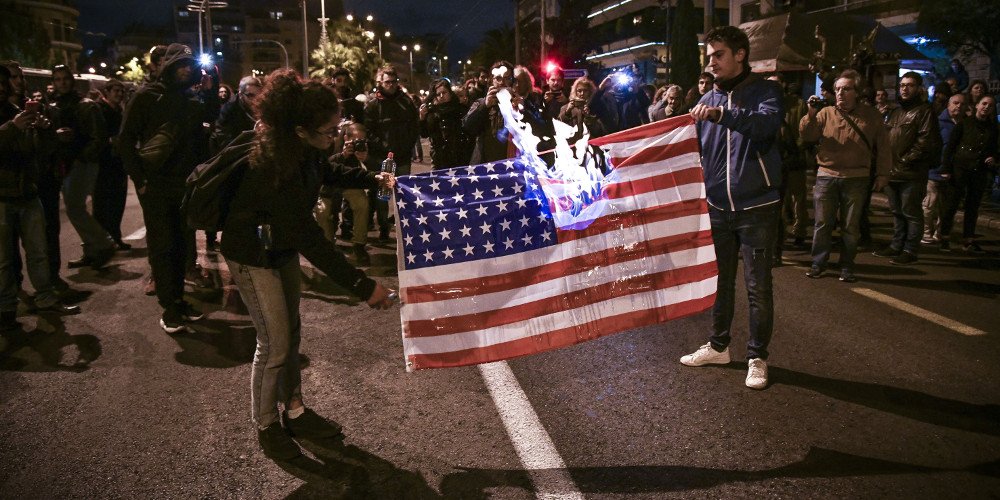 Violent clashes have erupted in Athens on the 45th anniversary of Greece's anti-junta uprising, as protesters burned US flags in front of Washington's embassy, condemning it for having backed the brutal military dictatorship.
Greek police used tear gas to quell public discontent when clashes erupted in the capital around Exarchia Square after a group of youths barricaded themselves inside the National Technical University of Athens (NTUA). Throwing rocks and firebombs at police lines, the anarchist group, known as the 'Polytechnic', forced the policemen to respond with tear gas and stun grenades.
A water cannon was also brought in to put out the flames and engage the rioters after clashes erupted. Similar scenes of violence were witnessed at the Ampelokipi metro station, across from Athens Police headquarters. At least 19 arrests were made during the three hours of clashes which saw at least two police officers injured.
Earlier on Saturday, thousands of people had assembled at the gates of NTUA, where the military dictatorship crushed the student uprising 45 years ago. Carrying a blood-stained Greek flag, they marched across the historic center.