Russian and Belarusian state sources are stating that a major assassination and "coup" attempt of Belarusian president Alexander Lukashenko has been thwarted by security services, which has further been dubbed in state media as an "armed insurrection" attempt which had the backing of the United States.
However, details surrounding the alleged 'plot' remain murky and it doesn't appear that anything actually close to an 'insurrection' ever got off the ground. Instead, multiple Belarussian officials were reportedly arrested on suspicions of treasonous plotting. Russia's FSB is also widely reported to have detained two conspirators in Moscow for their association with the plot.
"Several people, including two in Russia, have been arrested for allegedly plotting an armed insurrection against the Belarusian president," RT describes of the Belarusian media reports. "He claims that the US sanctioned the assassination attempt."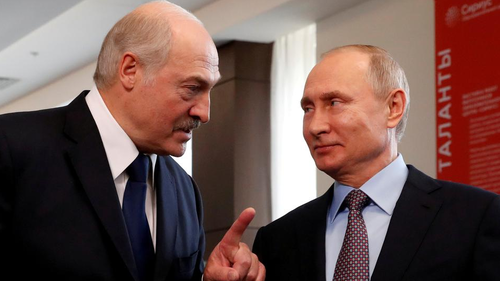 It comes after prior months of growing protests against the longtime autocrat, and after pro-democracy opposition leader Svetlana Tikhanovskaya from exile urged for more opposition to Lukashenko's rule in the streets after a security services crackdown of the past months.
Europe's "last dictator" – as Lukashenko sometimes calls himself, recently claimed victory and was sworn in for a sixth term last September after already being 24 years in power, which set off the widespread protests.
In a subsequent televised address, the Belarusian leaders explained: "we detained the group [of coup plotters], they showed us how they had planned everything, I remained silent." He then accused the US of assisting in the plot: "Then we discovered the work of clearly foreign intelligence services, most likely the FBI, the CIA."
At the height of the contested reelection protests last August, Lukashenko and other top officials said that NATO had built up forces along Belarus' Western border. He warned at the time that his military would immediately 'react' with force to any NATO provocation.
However, the crisis has since died down after a severe crackdown by police and security services, which involved stationing armed vehicles and tanks surrounding the presidential palace complex in Minsk.