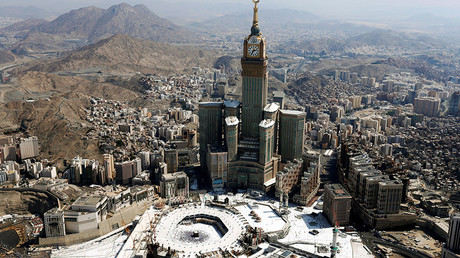 Saudi Arabia has announced plans to build a new mega-city across its borders with Jordan and Egypt which will be entirely powered by renewable energy.
The city, which has been named NEOM, will be built from the ground up on a massive greenfield site in northwest Saudi Arabia.
It will span over 26,500 square kilometers, an area more than 33 times bigger than New York City. The city already has it's own Twitter account and website.
Saudi Crown Prince Mohammed bin Salman said the city will focus on industries including energy and water, biotechnology, food, advanced manufacturing and entertainment.
It will be backed by more than $500 billion by the Kingdom of Saudi Arabia, the Public Investment Fund of Saudi Arabia (PIF) – the kingdom's largest sovereign fund – and other local and international investors.
"NEOM is situated on one of the world's most prominent economic arteries, through which nearly a tenth of the world's trade flows," PIF said in a press release.
"Its strategic location will also facilitate the zone's rapid emergence as a global hub that connects Asia, Europe and Africa, enabling 70% of the world's population to reach it in under eight hours."
In a major departure for the oil rich nation, NEOM will be powered entirely using wind and solar energy. All services in the city will be fully automated with repetitive and arduous tasks being entirely handled by robots.
PIF say the city will likely have the highest GDP per capita in the world. It also said NEOM will have a mild temperature because of a constant breeze coming in off the sea.
"All of this will allow for a new way of life to emerge that takes into account the ambitions and outlooks of humankind paired with best future technologies and outstanding economic prospects," the Crown Prince said.
The announcement came on the same day that the Crown Prince announced that Saudi Arabia, which is known for its ultra conservative rule, is moving to a more "moderate" form of Islam that is open to all religions.