As if China didn't have (soaring) debt, (shrinking) demographic and (pent up) default nightmares to struggle with every night (and realistically, every day) it can now add one more splitting headache to its rosters of economic challenges: soaring prices in the one commodity that is absolutely critical for China's rapidly growing economy. Copper.
While commodity and copper bulls have enjoyed a tremendous start to the year with the price of copper surpassing $10K earlier this week and set to make new all time highs, Copper's eyewatering price – which Goldman expects to keep rising for years due to an unprecedented supply/demand imbalance – is causing ripples of stress for industrial consumers in China, the world's largest market for the metal. As Bloomberg reports, "some Chinese manufacturers of electric wire have idled units and delayed deliveries or even defaulted on bank loans, according to a survey by the Shanghai Metals Market." Meanwhile, end-users such as power grids and property developers have also been pushing back delivery times, unable to pay for the metal, while producers of copper rods and pipes saw orders slump this week, said the researcher.
Copper's rally – which is fueled by soaring global demand resulting from trillions in stimulus, near-zero interest rates and the global economic recovery from Covid-19 – sent the price above $10,000 a metric ton on Thursday for the first time in a decade, making it among the best performers in a scorching surge in metals prices.
"Domestic copper users are feeling the pain right now after the recent surge caught them off guard," said Fan Rui, an analyst at Guoyuan Futures Co. "Electric wire producers are being hit the most, with smaller plants keeping run rates low as the spike is seen slowing the pace of investment by power grids."
In a clear indication that the laws of supply and demand still work somewhere, as the price of copper exploded, Chinese spot purchases of copper have weakened significantly amid the copper rally…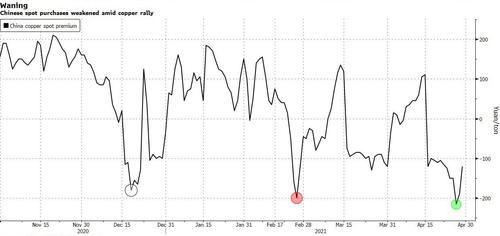 … while the latest Chinese manufacturing PMI index slipped in April and the services sector also weakened, suggesting the economy is still recovering but at a slower pace. And while China – the biggest end user of physical copper may be approaching its demand limit – analysts at banks including Goldman Sachs Group Inc. are predicting further gains for the metal as the global economy picks up pace.
To cynics who still remember Goldman's $200 oil price target in the summer of 2008, Goldman's copper euphoria is just a way to offload its own exposure to naive clients.
Sure enough, Bloomberg notes that in a sign of potential weakness in Chinese physical demand, the spot contract traded at a discount of as much as 215 yuan a ton ($33) to Shanghai futures' prices this week, the widest in about 10 months. The appetite for imports is also low, with the Yangshan copper premium, paid on top of benchmark LME prices, slumped to the lowest since data were first published in 2017.
Furthermore, there is a precedent for demand destruction in China amid higher prices, according to BMO Capital Markets analyst Colin Hamilton. Hamilton pointed to 2006 where prices recorded the largest January-April gain on record and came amid a credit-fueled sudden acceleration in developed world demand.
"2006 was the only year this century where annual Chinese copper consumption fell on a y/y basis, as marginal buyers simply stepped away," Hamilton said in a note, hinting that 2021 may be the second such year unless copper prices don't stabilize.
Higher price levels also could see marginal buyers pull back in the near term and look to substitute in the medium term.
"$10,000/t copper now is the biggest danger to future demand use, particularly in these nascent trends where material selection is still evolving," said Hamilton. "There is no doubt copper may be best for electrical or heat transfer performance, but with the ratio to aluminium now well above the 3.5:1 level where we consider substitution accelerates, the risk is clear."
Copper fell 0.8% to $9,806 a ton on London Metal Exchange on Friday after reaching $10,008 on Thursday, the highest since February 2011. Aluminum also fell, while nickel rose.