Goulburn was the coldest place to be in NSW overnight, as severe frosts and subzero temperatures gripped three Australian states.
While Melbourne rugged up for its coldest morning in two years, Goulburn in NSW took the title for the most bitterly cold place in NSW, with the mercury plummeting to -9.7 degrees overnight as a cold snap affecting the bottom half of Australia bit hard.
NSW Bureau of Meteorology forecaster Helen Reid said it wasn't a record low for the regional city — possibly cold comfort for residents, given that the subzero temperatures were not even matched by conditions in the Snowy Mountains ski fields.
The mercury plunged to -9.6 at Perisher Valley and — 8 at Thredbo: mostly too chilly and dry for snow bar the occasional flurry, but big falls are forecast for next week.
A look at the sea of blueon the Bureau's Australia-wide temperatures overnight shows the cold snap is biting hard parts of Australia.
Ms Reid says Saturday night will be similarly cold, before temperatures going into Monday turn "cold, as opposed to bitter".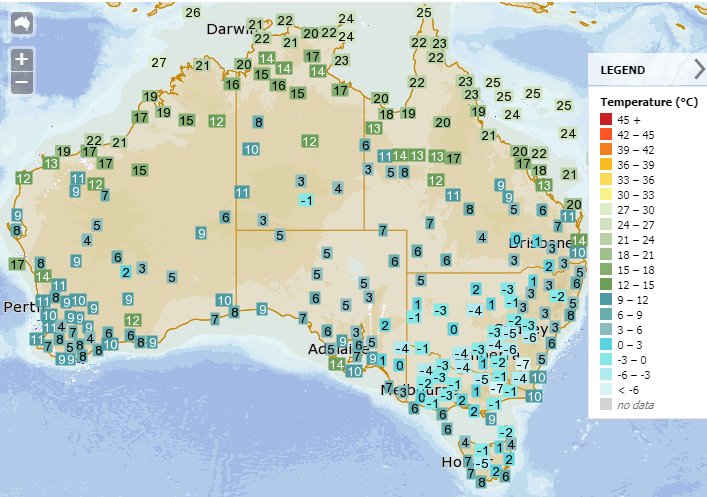 NSW and ACT
Temperatures plunged into low single figures in Sydney, but Richmond went a step further, spiralling into subzero territory with a minimum temperature of -1 degrees heading into the weekend.
Camden was -0.8 degrees at 6am, and Campbelltown 1 degree at 7.35am.
Closer to the CBD, the minimum at Observatory Hill overnight was 5.8 degrees "decidedly cold, and about two degrees below average, but not coldest on record — that's 2.2 degrees back around when records began in 1890", Ms Reid said.
But further west in the Central Tablelands at Bathurst, locals woke to a heavy frost after an icy subzero night, which temperatures dipped to — 7.3 degrees.
It was Bathurst's coldest July night since 2002, and it's equal coldest ever, Ms Reid said.
In Canberra, it was -8.7 degrees at 7am.

VICTORIA
It was Melbourne's coldest morning in two years as temperatures dipped to 1.1 in the city leading into Saturday.
It was the coldest morning in the city since July 19, 2015, when the minimum was just 0.6 degrees was recorded on July 19.
Victoria was also plunged into subzero territory, with lows including Essendon (-2.0) and Laverton (-1.7), dropping to -3.9) in the Yarra Valley.
The coldest place in the state was Mount Hotham at -7.9C, as the Bureau issued warning about icy roads making driving conditions dangerous.
Rutherglen's plunge to a low of -6.9C was it's coldest July morning on record, the Bureau said.

TASMANIA
Warnings to watch out for black ice on roads followed a cold start to the day, with -10C at Liawenee, -7 degrees at Fingal and -6 at Tunnack and Cressy.
At Launceston the low was -3.1 degrees, while Hobart started the day a shiver above freezing with a low of 0.2 degrees.