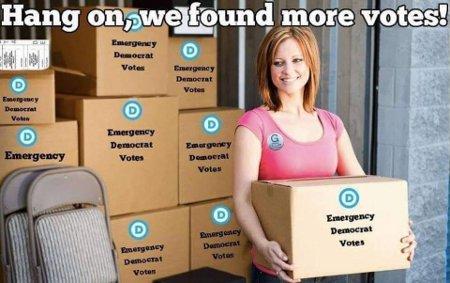 US President Trump's campaign manager Bill Stepien has issued a statement confirming they will demand a recount in Wisconsin:
"Despite ridiculous public polling used as a voter suppression tactic, Wisconsin has been a razor thin race as we always knew that it would be. There have been reports of irregularities in several Wisconsin counties which raise serious doubts about the validity of the results. The President is well within the threshold to request a recount and we will immediately do so."
On top of that, a county in the battleground state of Michigan is reviewing the Election Day vote count after the clerk "became aware of apparently skewed results."
Antrim County Clerk Sheryl Guy learned of the skewed results in unofficial tabulations, the county said in a statement.
Since then, her office has been reviewing the results "and the multiple redundancies to search out any possible discrepancies."
"By this afternoon, we expect to have a clear answer and a clear plan of action addressing any issue," Guy said in a statement. "Until then, we are asking all interested parties to bear with us while we get to the bottom of this."
State Rep. Triston Cole, a Republican, told a local radio station that the results were suspect.
"There is no way that we flipped from 62 percent Trump in 2016 to upside-down this time around," he said.
Additionally, Mark Levin is enraged by what is occurring right in front of our eyes…
1. I thought about waiting until my radio show to state this, but it must be said now:
All night and this morning, the media are playing with the electoral map and their declarations of who won what states, and in virtually every case it assists the Biden campaign.
2. North Carolina, Georgia, Alaska should all be called now for President Trump. There was no legitimate reason to call Arizona early for Biden with so much of the vote out. There was no reason to sit on Florida and Ohio for hours when those outcomes were quite clear.
3. The purpose is to make it appear that the President is not close to the 270 electoral vote number to win the presidency and to make it appear that the President was never going to be re-elected.
4. And you can see all the delays through the night and beyond, waiting for mail-in votes — Philadelphia, Atlanta, Milwaukee, Detroit, etc. This is followed by commentators telling us that there's nothing unusual about all of this. Delays in counting votes happens all the time
5. Really, we've experienced this before? In all these states? Nonsense. Meanwhile, the Democrats have been litigating in states for months to change existing election laws to help Biden and the Democrats.
6. They set in place the mail-in voting chaos, some states literally a few months ago.
This will not end well, or peacefully, unless full transparency is granted.
Meanwhile, Twitter has been very active in suspending 100s of accounts of individuals who pinpoint the hilarious levels of fraud by the Democrats.
An example is user duckdiver19 who kept showing official State graphs of the fraud in WI, and later MI. Twitter quickly suspended his account.
I mean LOOK at this graph for Wisconsin

I'll zoom in just so you can see the part where Biden votes came out of NOWHERE pic.twitter.com/MPVxTWxjcZ— Derek Duck (@duckdiver19) November 4, 2020