Turkish aircraft broke an all time record on Tuesday, January 14, 2020, with 91 violations of Greek airspace.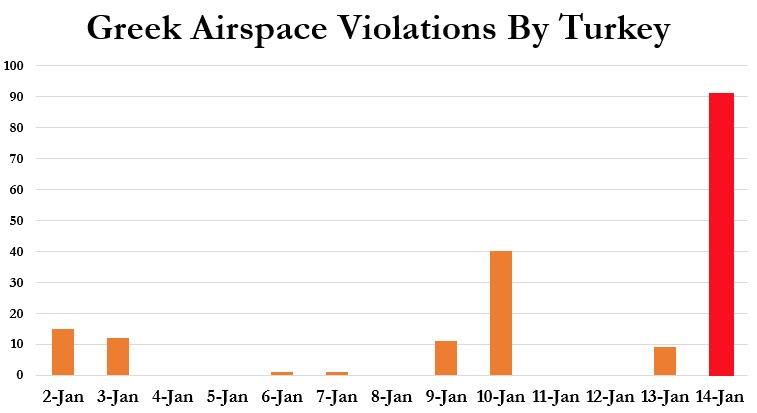 Additionally, as KeepTalkingGreece.com reports, among the 91 Athens FIR violations, 27 were overflights of various islands, including Panagia, Oinousses, Agathonisi, Lipsi, Kalolimnos, and for the first time in years, the Turkish jets flew also over the heavily populated, and tourist-dominated island, Leros, which lies just a few miles from Turkey.
A total of 20 Turkish aircraft, that is 15 fighter jets F-16, 1 AFNS CN-235 electronic warfare aircraft and 4 helicopters conducted the violations. Ten of the Turkish fighter jets were armed.
In six cases the Turkish jets were engaged in so-called "dog fights" with Greek fighter jets.
As The Gatestone Institute's Debalina Ghoshal recently wrote, Turkey's "persistent policy of violating international law and breaching international rules and regulations" was called out in a November 14 letter to UN Secretary General António Guterres by Polly Ioannou, the deputy permanent representative of Cyprus to the UN.
Reproving Ankara for its repeated violations of Cypriot airspace and territorial waters, Ioannou wrote of Turkey's policy:
"[it] is a constant threat to international peace and security, has a negative impact on regional stability, jeopardises the safety of international civil aviation, creates difficulties for air traffic over Cyprus and prevents the creation of an enabling environment in which to conduct the Cyprus peace process."
The letter followed reports in August about Turkish violations of Greek airspace over the northeastern, central and southeastern parts of the Aegean Sea, and four instances of Turkey violating aviation norms by infringing on the Athens Flight Information Region (AFIR). Similar reports emerged in June of Turkey violating Greek AFIR by conducting unauthorized flights over the southern Aegean islets of Mavra, Levitha, Kinaros and Agathonisi.
In April 2017, Turkish European Affairs Minister Omer Celik claimed in an interview that Agathonisi was Turkish territory. A day earlier, a different Turkish minister announced that Turkey "would not allow Greece to establish a status of 'fait accompli' in the 'disputed' regions in the Aegean Sea." In December 2017, Greek Deputy Minister of Shipping Nektarios Santonirios reportedly "presented a plan to populate a number of uninhabited eastern Aegean islands to deter Turkish claims to the land."
This has been Turkish policy despite the fact that both Greece and Turkey have been members of NATO since 1952. Greece became a member of the European Union in 1981 — a status that Turkey has spent decades failing to achieve, mainly due to its size and religious affiliation.
Recently, EU and Turkish officials met in Brussels on November 30 to discuss an intelligence-sharing agreement between the European Police Service (Europol) and Ankara. Such an agreement is reportedly one of 72 requirements that Ankara would have to meet in order to receive visa-free travel to the Schengen zone.