The White House and State Department have reaffirmed the US commitment to its lead military role in executing the Saudi coalition war on Yemen. This despite mounting civilian deaths numbering tens of thousands, devastating famine and food shortage, a cholera epidemic — all factors behind what the U.N. has dubbed "the world's worst humanitarian crisis."
In comments on Sunday a top State Department official quoted by Reuters said a US pullout from the Saudi coalition would send "a wrong message". But we would ask: what then is the message here?…
The official framed the conflict fundamentally in terms of countering Iran and bolstering the regional standing of key ally Saudi Arabia in a civil war that's been raging in neighboring Yemen since 2015.
The official, Timothy Lenderking, deputy assistant secretary for Arabian Gulf affairs, told a security forum in the United Arab Emirates, per Reuters:
"There are pressures in our system… to either withdraw from the conflict or discontinue our support of the coalition, which we are strongly opposed to on the administration side."
"We do believe that the support for the coalition is necessary. It sends a wrong message if we discontinue our support," he added.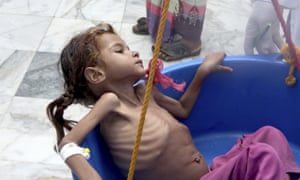 Like all administrations going back to 2001, the White House has relied on the 9/11-era Authorization For Use of Military Force (AUMF) to give legal justification for its actions in the Arabian peninsula.
But in Yemen the target not primarily al-Qaeda, ISIS, or Sunni Islamist militants, but Iran — which the Trump administration has repeatedly accused of supplying Yemen's Shia Houthis with its ballistic missile arsenal.
Like Putin is to NATO expansion, Iran is the hidden bogeyman that's formed the basis of Pentagon "justification" for perpetually remaining in the costly war despite Congress never having authorized it, and despite the unpopularity of the war among an increasingly aware American public.
In late November, the Senate passed a resolution to debate whether the president has the authority to support the Saudi coalition in Yemen. Though last month the US announced it would halt the refueling of Saudi-UAE coalition jets, it still remains deeply involved in orchestrating military operations.
But ironically, none of the growing scrutiny of the war has come to pass based on any concern that it's American bombs wiping out Yemeni children, but based on one Saudi journalist and Washington Post columnist's death.