A Wikileaks cable from CIA operative and former US Ambassador Philip Reeker (currently stationed in Italy, overseeing Macedonia's name change operations from there) became available to the public.
In his 2008 confidential report to the US State Department (OTI division) Reeker seeks protection for his mole in the Macedonian Government – Nikola Dimitrov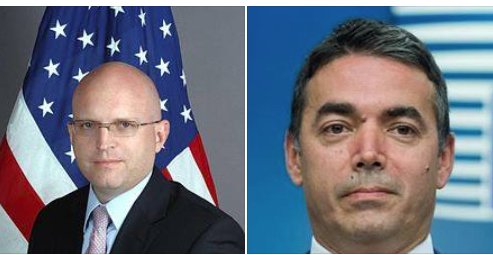 Who brought Dimitrov out of obscurity and made him Macedonia's Foreign Minister to sign the name change? Baily's boss, Philip Reeker.  As the sayings goes, as you sow, so shall you reap.
Current Republic of Macedonia Foreign Minister Nikola Dimitrov was listed as a "protect" U.S. embassy source twice in 2008 after providing information on the Greece-Macedonia name dispute and NATO, EU integration.

1) https://t.co/YtxNWb3K1K
2) https://t.co/cTcLN39LVh

— WikiLeaks (@wikileaks) December 15, 2018
Below is Reeker's cable to the State Department.
————————————————————————————————–
1. (C) Summary: The Macedonian leadership — PM Gruevski and President Crvenkovski — are deadlocked on how to proceed with the name talks with Greece, name negotiator Dimitrov told the Ambassador Sept. 30. UN Negotiator Nimetz will reportedly present a "take it or leave it" proposal to both sides Oct 6-7 in New York, but Dimitrov believes neither Athens nor Skopje will be able to accept it, and the talks will then likely be broken off for some time. Gruevski and Crvenkovski's bitter feud may have softened somewhat with Crvenkovski agreeing Oct 3 to participate in an Oct 6 meeting with the major political parties to coordinate prior to the New York meetings. End summary.
The Deep Freeze —————-
2. (C) The GoM's chief negotiator on the name issue, Nikola Dimitrov, told the Ambassador Sept. 30 that President Crvenkovski and PM Gruevski are deadlocked over how to proceed with these negotiations. Dimitrov said the two have fundamentally different approaches and could barely speak to each other during a tense "coordination meeting" the previous day. The two leaders have escalated their already scathing rhetoric about each other in the press, Crvenkovski accusing Gruevski of abdicating his responsibility to pursue the negotiations seriously, with Gruevski responding that the President is essentially manufacturing a controversy to improve his political standing leading up to the end of his term this spring, after which it is expected that he will once again become leader of the main opposition party, the Social Democrats (SDSM). The tone may have improved somewhat Oct 3, when Crvenkovski announced he would participate in a meeting with the major party leaders on Oct 6 to coordinate on the name negotiations.
3. (C) These scathing press duels follow a tense week of speculation on events at the UNGA, which Crvenkovski and FonMin Milososki attended, but Gruevski did not. The PM and his advisors were furious when Crvenkovski excluded Milososki from his meeting with Nimetz, and proceeded to taunt the President, essentially daring him to come home with a deal on the name which would then be put to a referendum (the subtext being that Gruevski would ensure its failure and humiliate Crvenkovski).
Dimitrov (please protect) told the Ambassador in strict confidence that Milososki had refused Nimetz's request to meet separately during the UNGA. (While we have not sought to confirm this with Nimetz, if true this calls into question Gruevski's seriousness in pursuing a solution.) Take It or Leave It Proposal —————————
4. (C) Dimitrov reported that Nimetz told him that he will present a final package very soon as a "take it or leave it" deal for capitals to consider. (Dimitrov told us Oct. 1 that Nimetz has called for a meeting in New York for Oct. 7.) Dimitrov added that, according to Nimetz, Greek FonMin Bakoyannis viewed Nimetz's latest proposal as entirely unacceptable to Greece, primarily on the issues of scope of use of a new name and the use of "Macedonian" as the adjective to describe national identity. Dimitrov had little hope that Athens would find another Nimetz proposal acceptable, and that the current political stalemate here would preclude any serious consideration in Skopje. He predicted this would lead to a prolonged pause in negotiations. In recent previous discussions with us, Dimitrov has told us that Nimetz is frustrated and confessed to be "running out of ideas."
Deep Divisions Over Macedonia's Future ————————————–
5. (C) Dimitrov told us he believes Gruevski and Crvenkovski have a fundamentally different view of the negotiations and, more importantly, Macedonia's future. Dimitrov portrays the President as believing the country has a bleak future if it is not a NATO and EU member, thus he believes the GoM must quickly make deal on the name in order to integrate as quickly as possible. Crvenkovski also believes Macedonia must enlist the aid of the international community in the negotiation process, and in order to do so must be seen as being willing to compromise on the name, as long as the country's dignity and identity remain intact.
6. (C) Dimitrov sees Gruevski as more motivated by the fear of going SKOPJE 00000606 002 OF 002 down in history as the leader who lost Macedonia's name and identity; these are more crucial than Euro-Atlantic integration. Dimitrov opined that Gruevski believes Macedonia can survive and even prosper without NATO and EU membership. Dimitrov professed to be deeply concerned that Macedonia's e-Albanian community will rapidly become dissatisfied with the lack of movement toward these Western institutions and that interethnic tensions will rise, perhaps rapidly. Comment: A Future Without NATO and EU? ——————————————— ———-
7. (C) It is generally known that Dimitrov is closer to Crvenkovski. Following quarrels with Gruevski some months ago he has always been accompanied by Gruevski's COS in meetings with Nimetz. It cannot be said that he is a dispassionate observer. Nonetheless, his analysis of the President and the PM's differing perspectives is consistent with that of many other contacts. There is some evidence that the Gruevski government is laying the groundwork for preparing the Macedonian people for remaining outside the Alliance and the EU for some years to come. Among others, Milososki has made public statements to the effect that the country will thrive outside these organizations even as others in the region — Albania, Serbia, Kosovo — move forward, arguing that their membership in these institutions will also stabilize Macedonia. We have continued to press the point publicly and privately that Macedonia's future lies inside these organizations; any other path will bring significant risks. 8. (C) We should not underestimate the role that political ambition and personal animosity are playing in this dispute. Since Gruevski's VMRO-DPMNE swept to power in 2006, he and Crvenkovski have chafed under an at best uneasy state of cohabitation. With the prospect of a possible "take it or leave it" proposal on the near horizon, we are at a critical stage of this lengthy process.
REEKER