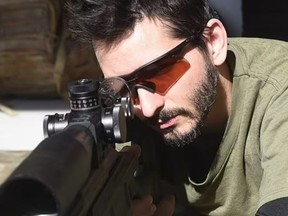 "I don't like the idea of shooting anyone. But when the time comes to squeeze the trigger, I won't hesitate," said "Wali," in an exclusive phone interview with the U.K.-based Daily Mail.
The mystery sniper who left behind his fiancee and baby son issued the warning as Vladimir Putin targets Ukraine's historic capital, Kyiv.
Wali is a veteran of two tours in Afghanistan with the Canadian Royal 22nd Regiment. He left behind a cozy life as an IT programmer to respond to Ukraine's plea for foreign recruits.
"If Putin really wants Kyiv, he is going to have to pay a huge price. Nobody wants the Russians here and everyone will resist," the sniper said. "The damage we can do to them will be crazy. They will lose so many lives, it will become another Stalingrad."
Wali was not so lucky, the Montreal born was shot and killed by Russian special ops in Mariupol on the very first day of his arrival.