Boeing shares slid half a percent on the news that the Chicago-based airplane manufacturer sold zero commercial planes in January.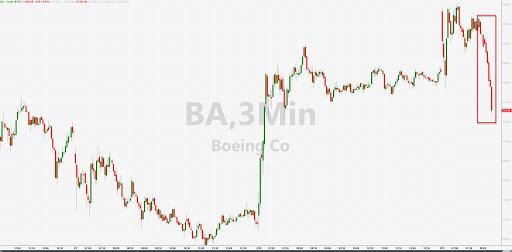 January is typically a slow month for the planemaker, however, with the grounding of the 737 Max and production halted, this was the first time the company has seen no new orders in January since 1962!
The lack of plane orders last month allowed competitor Airbus to become the world's largest planemaker, the first time since 2011. Airbus posted its largest January order haul in at least 15 years, as it booked gross orders for 296 aircraft, or 274 net orders after cancellations.
Last month, a 75% collapse in Non-Defense Aircraft New Orders was seen…its lowest level since 2009 as Boeing implodes.
With no new orders and the grounding and production halt of Max jets, this could suggest 1Q GDP could come in weak.
None of which should be a surprise, as we noted previously, Boeing's production cuts will cut Q1 GDP growth by a third.