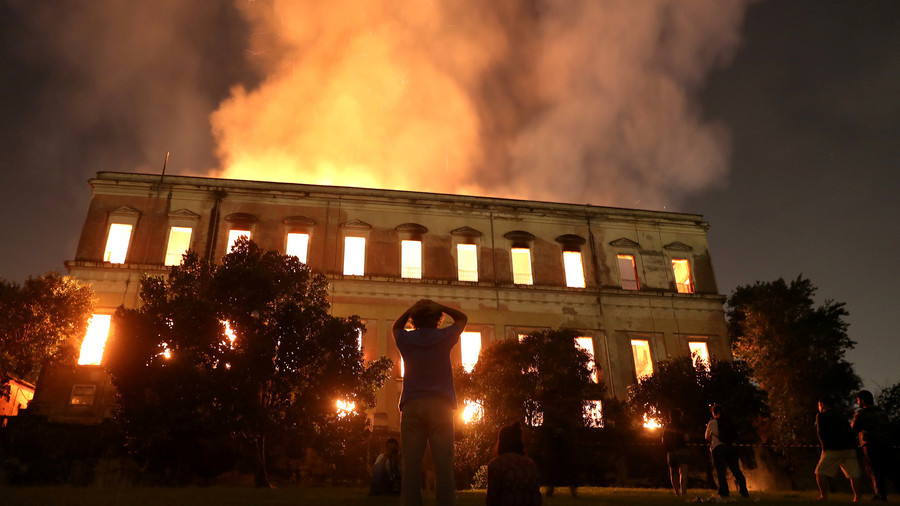 Dramatic images of the flames that engulfed Brazil's National Museum have sparked concern for the more than 20 million pieces of history that are housed in the building. Here are five things that may have been lost in the blaze.
1. Frescoes from Pompeii
These paintings managed to survive the eruption of Mount Vesuvius in AD 79, and the subsequent burying of the city. But now the stunning frescoes – which collectively feature peacocks, seahorses, a dragon, and dolphins – could be lost forever. The potential loss is extremely significant, as the museum houses the largest group of such artifacts in Latin America.
2. Mummified specimens
The museum is home to a mummified woman who died 600 years before Europeans ever arrived to South America, providing a rare example of Brazilian mummified bodies. The museum is also home to shrunken heads from the Shuar people in the Ecuadorian Amazon basin and houses 700 items from Egypt, including the 3,000-year-old coffin of the priest Hori and a mummified cat.
3. Fossil collections
The museum is home to a number of ancient fossils, including those of Brachiopods dating back some 390 million years. In addition to authentic fossils, some rather impressive skeleton replicas are on display, including one of the Angaturama limai dinosaur, which was the first large Brazilian carnivorous dinosaur to be displayed in such a way.
4. Scientific library
Nearly half a million volumes make up the museum's scientific library, including 2,400 which are classified as rare works. It seems that the library wasn't able to escape the fire – at least not completely – as reports on social media suggested that people were finding burnt pages in the streets around the museum.
5. Ancient skeleton
Luzia Woman, an upper paleolithic period skeleton, has called the museum home since being discovered in a cave in Brazil in 1975. She is believed to be around 11,500 years old, making her the oldest human skeleton to be found in the Americas. Sadly, she could have finally met her fate in 2018.