Researchers from the University of the Highlands and Islands (UHI) have developed a self-sufficient autonomous aircraft that transforms into a "lighter-than-air" blimp to propel itself forward has conducted first test flight.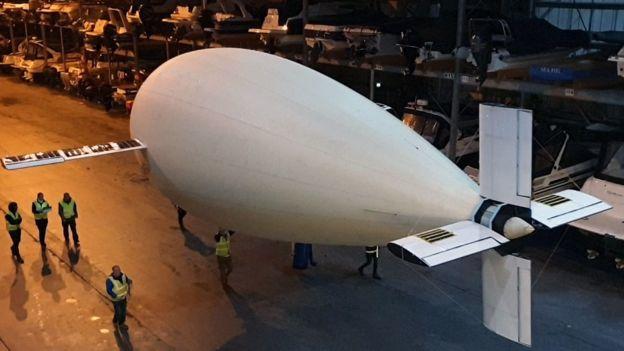 The Phoenix, an "ultra-long endurance autonomous aircraft," uses helium to rise into the air and then moves forward by "inhaling" and compressing air. Solar cells line the aircraft's wings, indicating there are no limits on how long it could remain air bound.
Researchers said the Phoenix is the first ever aircraft to be powered by such innovative technology. The aircraft measures 15 meters long and has a 10.5-meter wingspan.
The aircraft has been designed for businesses and scientific use, and its inventors believe it could revolutionize the telecommunications industry.
"The Phoenix spends half its time as a heavier-than-air airplane, the other as a lighter-than-air balloon," explains Andrew Rae, professor of engineering at the University of the Highlands, who is the lead engineer on the project. "The repeated transition between these states provides the sole source of propulsion."
"This system allows the Phoenix to be completely self-sufficient," he adds in a statement. "Vehicles based on this technology could be used as pseudo satellites and would provide a much cheaper option for telecommunication activities. Current equivalent airplanes are very complex and very expensive. By contrast, Phoenix is almost expendable and so provides a user with previously unavailable options."
The Phoenix was successfully tested inside the Drystack at Trafalgar Wharf in Portsmouth, UK's largest indoor boat storage facility.