Antonio Apostolski, the lawyer of Saso Mijalkov said that according to the Criminal Procedure Code, the person who is being detained should first give a statement in court and then be detained.
Mijalkov's lawyer said he would file a complaint after the former director of the Security and Counterintelligence Service (UBK) was detained in the hotel "Marriot" in the center of Skopje in the Shuto Orizari prison last night.
– Today we received the detention order, in the course of today we will appeal it. The Code of Criminal Procedure states that every person must be summoned and questioned, and after his statement a decision on detention is made,"said Apostolski, adding Mijalkov was never taken in front of a judge and his client was willing to give up his passport. This confirms Mijalkov received his passport back from Zaev, as we reported, after he successfully blackmailed and bribed 8 MPs into giving their votes for the name change. Mijalkov's passport was taken by the SPO nearly a year ago (to recruit him for what's to come), passport was returned to him after the vote in Parliament on April 27th. Mafia state.
MINA finds, Mijalkov was allegedly detained as he was meeting with DPNE's 8 blackmailed and bribed MPs. That's one way of looking at this. Another way, the detention was all faked and done in front of the MPs in an effort to spook them not to change their mind.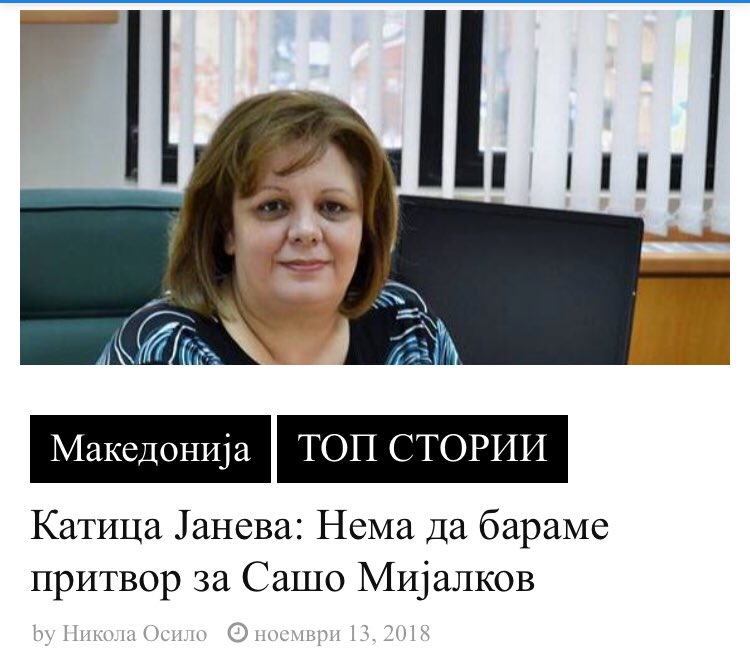 Baily's useful idiots always seem to be the last to know what the plan is
On two of Mijalkov's Bank accounts in Skopje there are 11m euros. His salary at the UBK was 1,000 euros/month. This excludes his offshore Bank accounts as well as in Prague where he owns multiple residential and commercial buildings.
Is Mijalkov really detained?
On the detention front… There is not a single photo, video or anything that Mijalkov was indeed detained. There were dozens upon dozens of cameras filming the jailing of actors and opera singers, but no camera, not even a cell phone picture available to film Kamchev (richest Macedonian) and Mijalkov!?
Massive lies are still floating in regards to Gruevski who was transported to Hungary as a high ranking official with security around him and support from Macedonia. The irony is Gruevski is said to have Hungarian residential permit for years. Gruevski did what he did best during his reign – fled the country (with Gjorcev) during every single crisis.