The US delivered two Sikorski UH-60M Black Hawk helicopters to Zagreb's Franjo Tudman Airport. The aircraft were donated to Croatia as part of a military assistance program and arrived amid what some have described as an escalating arms race between Serbia and its neighbors.
Announcing the delivery on Thursday, US Chargé d'Affaires Mark Fleming said the Balkan country "has earned a reputation as a committed and capable NATO Ally," and that the shipment "will further boost the capacities of the Croatian Armed Forces."
The US Embassy in Zagreb estimated the value of the hardware at around $54.8 million, saying it was part of $685 million worth of military assistance received by Croatia from Washington. Defense cooperation is the cornerstone of relations between the two nations, the diplomatic mission said in a statement on Thursday's delivery.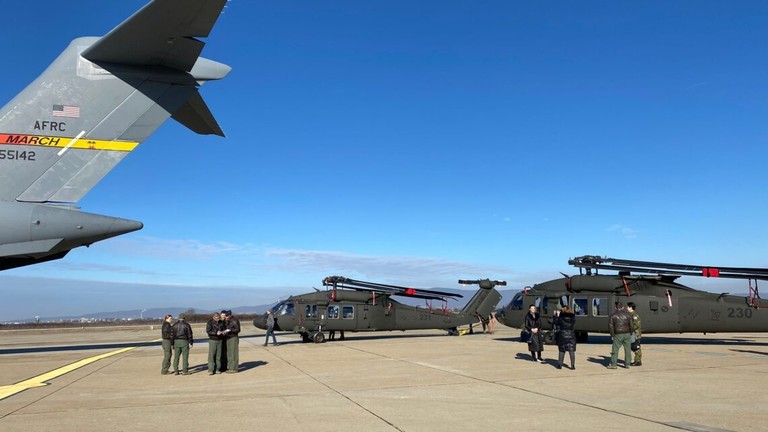 The donation of the Sikorsky helicopters was announced in 2019 and was followed by Zagreb's purchase of two additional rotorcraft at an estimated cost of $115 million. Senior Croatian defense officials visited the production facilities of the Lockheed Martin-owned company last year during an official visit to the US. Croatian pilots and ground crew received training in Minnesota to learn how to operate the US-made helicopters.
Ironically, just last week Croatia's president stated no chance a Croatian soldier would join any US-led fight over Ukraine.
Macedonia is not too far from their Croatian counterparts. Macedonia was the happy recipient of 2 (two) walkie talkies and orange cones by the US Embassy, two years ago.
MINA finds the walkie talkies are not in working order because they were purchased in 2018 and donated to the Macedonian Army. Hopefully the US Embassy keeps their receipt to get their $69.99 back.
The orange cones have been a hit with the Macedonian Army. They used them to put them in front of coffee shops so they can park their vehicles.