Zoran Making Friends Zaev made a bit of a gaffe during the Holocaust memorial event in the Macedonian capital when, in part of his speech, he called the Holocaust "a Jewish tradition that needs to continue".
Quick correction for Zaev, it's not Jewish, it's Bulgarian tradition to transport Jews to concentration camps.
Indeed, more often than not, Zaev does have challenges putting words that would eventually form a sentence, however this was a speech written for him!
His statement caused gasps in the audience, however things were 'resolved' after the Government's public relations service decided to distribute a doctored video, in which the offensive parts of his remarks were cut out.
The Government "fixed" the problem by having the camera moved away from Zaev and toward the audience as the audio of his remarks was cut off.
In case our Jewish friends wonder who they need to thank for this statement – It's the US Embassy and Washington, this is their man.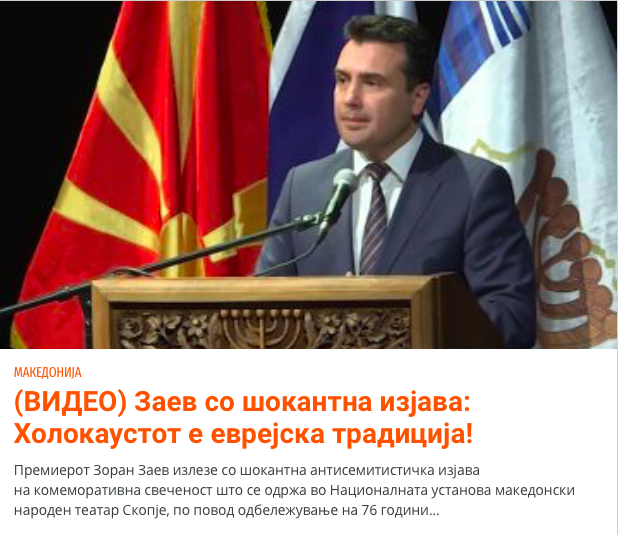 Few hours after Zaev's speech and the doctored video, once the speech spread on social media, the Macedonian Government was forced to issue an apology explaining what Zaev meant to say that the Holocaust was a tragedy, not a tradition.
It's nice how Zaev has a department dedicated to explaining his speeches.