The market capitalization of the world's cryptocurrencies crashed over $200 billion overnight, back below $1.5 trillion – its lowest since July 2021 and almost 50% down from its $3 trillion highs in Nov 2021…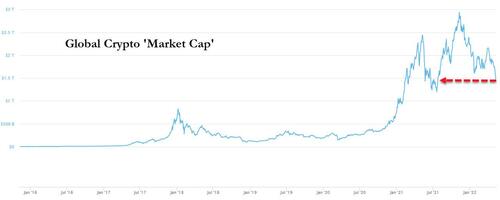 Most of the loss is coming from the majors like bitcoin…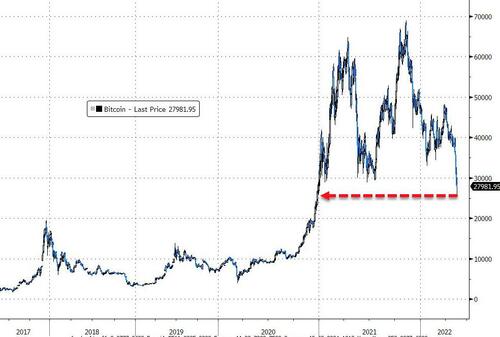 ..and ethereum…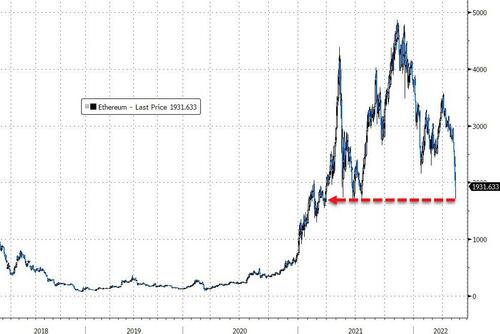 …and notably, ETH is dramatically underperforming BTC today as DeFi fears build…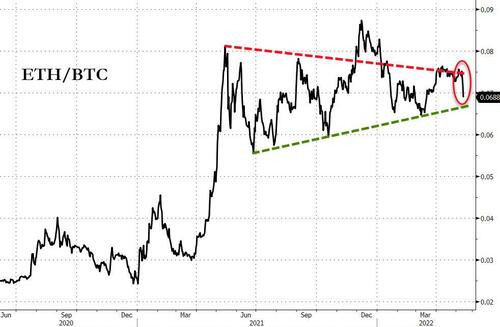 But the turmoil today is focused on the fact that crypto's first and largest dollar-pegged stablecoin – Tether – lost its peg amid mounting redemption pressure.
As Decrypt's Sujith Somraaj details below, Tether (USDT), the world's largest stablecoin, briefly dropped 5% on Thursday, falling as low as $0.95.
The stablecoin has recovered some but is still trading at $0.98, according to data from CoinMarketCap.
Tether's volatile price action comes amid a tumultuous week for the industry, following the implosion of Terra's stablecoin UST and a steep 10% drop from market leader Bitcoin.
Once the third-largest stablecoin, UST first de-pegged by just a few cents last weekend.
Since then, however, its collapse has been monumental. It briefly fell as low as $0.2998, a 71% decline from its dollar peg, on May 11, 2022.