With Elon Musk's "stand" against bitcoin last week, claiming that Tesla would not longer accept the coin for payments due to the environmental impact of mining it, the Tesla CEO quickly wound up doing an about-face in terms of his popularity with bitcoin fanatics.
And that "new" relationship was on full display Sunday when the Tesla CEO had an epic meltdown after a spat that started with podcast cost Peter McCormack. The spat send cryptos crashing: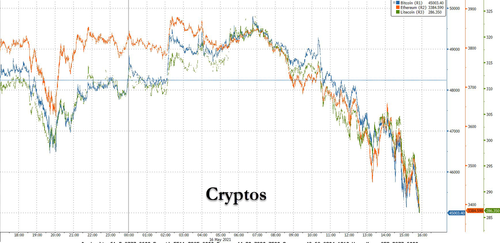 Musk, who made a killing on Bitcoin after buying it at 29k-30k a piece, and selling nearly all of his holdings at $56k, has started bashing bitcoin and promoting Dogecoin – insiders have claimed Musk has purchased 100s of millions of Dogecoins, a crypto coin which provides zero value and was started as a meme/joke.
But it isn't just Musk, it's also NBA's Dallas Mavericks owner Mark Cuban, who purchased large number of Dogecoin and is using his status and wealth to promote their (investment) coin which will undoubtedly lead to them earning huge sums of money, while bashing the rest or the crypto coins they wished they had, but have gone up in value.
Here is the what went on Twitter earlier…