At least 18 police officers were reportedly injured in Berlin on Saturday as they tried to break up a large gathering of people demonstrating against coronavirus restrictions, including the face mask requirement.
Three of the officers were being treated in hospital, Berlin police said on Twitter. It had deployed 1,100 officers to monitor the rally and disperse the crowd.
As German officials warn of soaring infection numbers, the protesters remain defiant. "The virus of freedom has reached Berlin," said one of the organizers, Michael Ballweg.
Others chanted: "We are the second wave," as they moved through the German capital.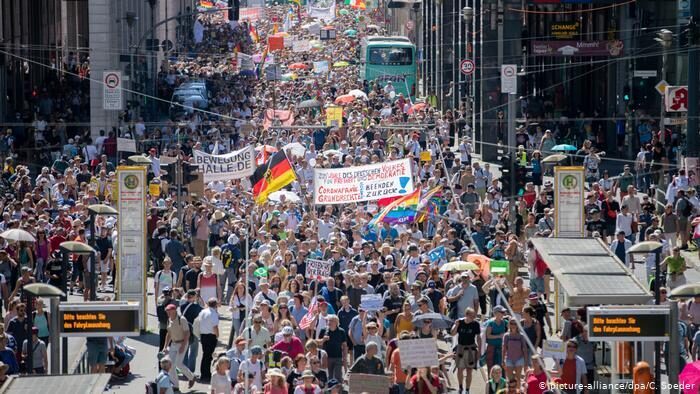 Police estimated that around 17,000 marched through Berlin and a total of 20,000 attended the culmination of the event. Most of the participants were not wearing masks or observing social distancing.
They said they could not confirm the "an exorbitantly large number" of participants thrown around on Twitter, in a likely reference to organizers claiming 1.3 million people attended the rally.
Berlin Mayor Michael Müller also sharply criticized the protester saying they have not looked at the facts and thus risked the health of other people. He added that there was no vaccine or effective treatment yet and that the situation was not over.
'Our freedom is being stolen'
DW's Benjamin Alvarez reported the arrival of trucks bearing anti-masks slogans with drummers on board.
Some protesters carried a banner calling for the arrest of US billionaire Bill Gates, German Chancellor Angela Merkel, German Health Minister Jens Spahn, and others.
Spahn commented on the event, saying that "Yes, demonstrations must also be possible in the time of coronavirus, but not like this."
"Distancing, hygiene rules, and face masks serve to protect all of us," he wrote on Twitter.
Lawmaker Saskia Esken, one of the two leaders of the center-left SPD party, slammed the attendees as "covidiots."
"Thousands of covidiots celebrate themselves in Berlin as the 'second wave' with no distancing, no masks," she said. "They are not only jeopardizing our health, they are jeopardizing our achievements against the pandemic and the revival of the economy, education, and society."