Having done nothing but insist on the continuation a religion-driven rate-cutting environment overnight, sending the lira above 18/USD, Turkish President Erdogan made another appearance this afternoon announcing extraordinary measures to bolster the Turkish lira, including the introduction of a new program that will, in his words, protect savings from fluctuations in the local currency.
The government will make up for losses incurred by holders of lira deposits should the lira's declines against hard currencies exceed interest rates promised by banks, Erdogan said after chairing a cabinet meeting in Ankara.
"From now on, none of our citizens will need to switch their deposits from the Turkish lira to foreign currencies because of their concerns that the exchange rate" fluctuations might wipe out gains from interest payments, Erdogan said.
The measures are intended to mitigate retail investors' demand for dollars.
While the fact that to do this, he would need to print more money seem to have been ignored, the Lira suddenly exploded higher in what appears to be nothing more than a well-engineered short-squeeze for now: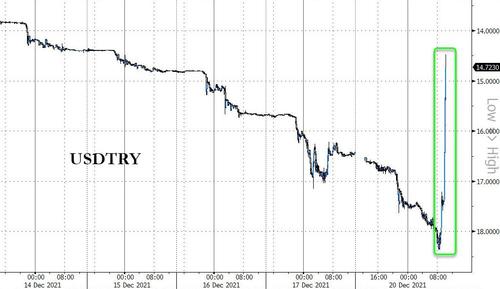 This is one of the biggest bounces in the Lira on record (larger at its peak that during the August 2018 crisis and the biggest intraday bounce since 1994)